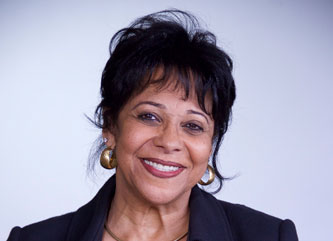 Rev. Dr. Cheryl Ward is a dynamic, vibrant presence, master teacher, and Dean of Agape University at Agape International Spiritual Center.   Under Cheryl's leadership, the University stands out in the New Thought field as an energetic and transformative learner-centered paradigm of instruction.  Cheryl is a strong advocate for classes that emphasize personal insights, spiritual transformation and revelations that stress the application of spiritual principles in everyday life.   Her leadership has been instrumental in guiding Agape's Professional Practitioner Studies Program and the Michael Bernard Beckwith Ministerial Program launched in the Winter of 2016.
Cheryl teaches Foundations of Universal Principles and Meditation and the Evolution of Consciousness alongside Michael Bernard Beckwith, Agape's Founder and Spiritual Director.  Her class, Self Awareness and the Evolution of Consciousness, has helped countless students wake up from a sense of victimhood and helplessness to the bold stance that life is for them!  With a deep abiding love for God and the application of spiritual principles in her life, Cheryl lives these truths as an embodied lifestyle.
She is the author of several articles including "Ten Keys to Prosperity," "Alive, but Dying to Live" and "The Living Prosperity Experiment" ™.  She is also the originator and creator of the Oath of Manifestation™, used by Agape during its 28th anniversary.  She gives workshops on using the Oath of Manifestation (www.oathofmanifestationglobal.com) and is currently teaching the Oath of Manifestation Plenty to Spare Plenty to Share Class at Agape.
In addition to her work with Agape, Cheryl is an attorney who recently celebrated 42 years as a member of the California State Bar.   Honored for her dedication and leadership by her peers in the practice of law, Cheryl was inducted onto the Langston Bar Association Hall of Fame in 2011.